Table of Contents
Skinning
Skin scraps and blood that you get from monsters is used in Tanning and Alchemy.
There is very high demand for high-tier blood vials that are used for polishing and shining oils in Alchemy.
This means skinning can become a profitable hobby for someone with no social life

How to start
1. You get clay skinning knife from lvl 275

reward. If you misplaced it, you can always buy another one from the Tool Merchant at -1 floor in DP building.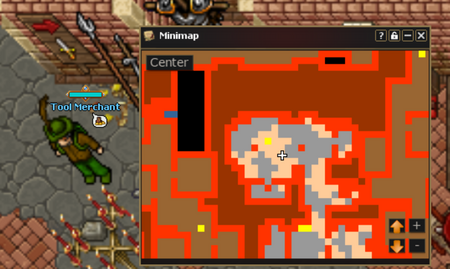 2. Prepare some energy for skinning. You either need to use a skinning knife on a fresh corpse
or simply right-click (open) their corpse with skinning knife in any of your backpacks.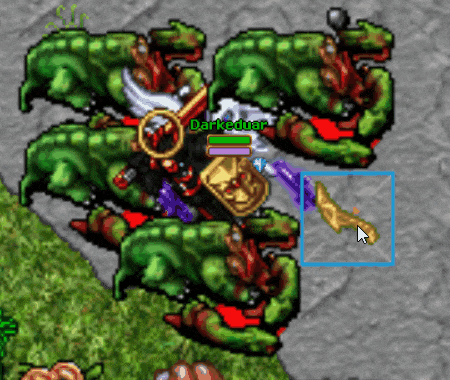 3. Every succesfull attempt will cost you 5 energy that can be lowered by certain Trinkets, Backpacks and Companions.
These bonuses are additive and energy reduction items will definitely help you save alot of money.
Daily Task
To progress faster you can do daily tasks. Each day you will be asked to mining specific nodes. They will yield 200% of regular experience.
Stat Bonus
When you reach certain tresholds with Skinning you will get bonus Luck stats.

Skinning
level
Bonus
20
+1
40
+2
60
+3
70
+4
80
+5
90
+7
100
+10
110
+15
120
+25
This bonus isn't additive so on level 120 you will have +25 Luck.
Tools and spawns
Name
Required
skinning
Ingredients
Monsters to skin
Rewards
Clay Skinning Knife
0
Tool Merchant
1000 Gold Coins
reward (275 lvl)

Stampors

Dragons

Minotaurs

Apes

Orcs

Also: Larvaes, Forest Furys, Trolls...

Light Skin Scrap 5oz vial of blood
Iron Skinning Knife
10
100 Iron Ingot
5 Crystal Coins
1 Archlight Token


Blacksmith Skill (10)

Hydras

Werewolves

Black Knights

Lizards

Crystal Spiders

Also: Dark Torturers, Heroes, Corrupted Hydras...

Heavy Skin Scrap 10oz vial of blood
Copper Skinning Knife
20
100 Copper Ingot
25 Crystal Coins
2 Archlight Token


Blacksmith Skill (20)

Behemoths

Dragon Lords

Demons

Retching Horrors

Drakens

Also: Hellspawns, Lost Berserkers, Enslaved Dwarves...

Gold Skin Scrap 15oz vial of blood
Steel Skinning Knife
30
100 Coal Ingot
100 Crystal Coins
3 Archlight Token


Blacksmith Skill (30)

Aged Serpent Spawns

Yetis

Cliff Striders

Bog Raiders

Also: Deepseas, Aquatics, Gnomeviles...

Glowing Skin Scrap 20oz vial of blood
Gold Skinning Knife
50
100 Gold Ingot
500 Crystal Coins
10 Archlight Token


Blacksmith Skill (50)

Ogres

Plagued Rats

Nomads

Hellhounds

Also: Helms, Plagued Mammals, Experiment Fours...

Aged Skin Scrap 25oz vial of blood
Mythril Skinning Knife
65
100 Mythril Ingot
15 000 Crystal Coins
20 Archlight Token


Blacksmith Skill (65)

Draptors

Dragonlings

Werecreatures

Gold Cove Tortoises

Also: Hideouts, Spidris Elites, Exileds...

Mythril Skin Scrap 30oz vial of blood
Dragon Skinning Knife
80
100 Dragon Ingot
40 000 Crystal Coins
50 Archlight Token


Blacksmith Skill (80)

Dusk Scarabs

Panthers

Rhutums

Forsaken Dragons

Also: Gargantoises, Experiment Sevens, Dire Wolves (Blackridge),
Island Tiger (Rumrunner Bay), Rock Wyverns (Blackridge)...

Inferno Skin Scrap 35oz vial of blood

Gives a Chance to get

2x scraps on use