Table of Contents
Cooking
Cooking gives you the ability to prepare unique dishes of Archlight which will significantly boost your stats and HP/MP regen. To get started, you will need some ingredients. You will have to either buy a farm and start Farming or buy meats and veggies from other players. Fishing will also come in handy as fish soups are very good stat boosters. Base food buff duration is 30 minutes.

Each crafting profession of archlight will Enhance your character in a certain way when you reach higher level. Additionaly to Enhancement, you will get Stat Bonus that will significantly boost your stats once maxed.
How to start
1. When you get your first veggies from Farming (as well as some fish slices from Fishing) you should head to -1 floor in DP building, to Horse npc and travel to Farm Shops. To begin crafting, simply right-click the large cauldron and select the meal you need. Remember to ask the npc about the daily task, as it will significantly boost your progress.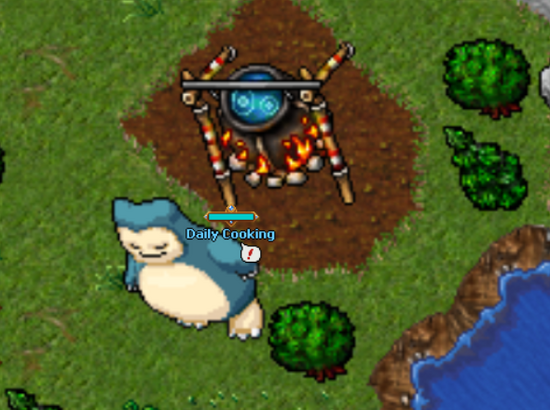 2. When you cook a meal for the first time it's marked with exclamation mark

next to it's name and it will yield 400% experience.
Daily task
Once a day you can visit Daily Cooking npc and ask him for a task. He will ask you to cook something for him. Every item that is currently needed for your daily task will be marked with question mark

next to it's name. You will keep this meal and additionally you will get 200% experience.
Enhancements
Enhancement for Cooking is increasing your Food buff duration. Once you reach certain thresholds new crafting option called Enhancements

will appear available. Only then you will be able to pay and obtain your precious title. This bonus is not additive, on 95 level of cooking you will have +30% increased buff duration.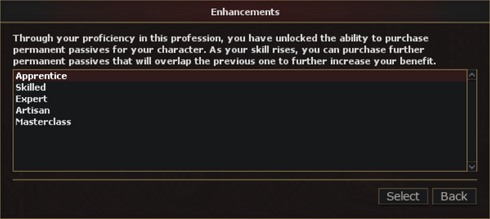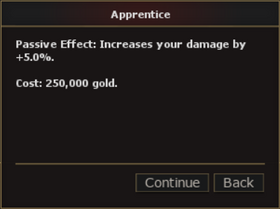 Title
Level
Apprentice
60
Skilled
70
Expert
80
Artisan
90
Masterclass
95
Food
buff duration
10%
15%
20%
25%
30%
Cost
25 Crystal Coins
50 Crystal Coins
100 Crystal Coins
300 Crystal Coins
500 Crystal Coins
Stat Bonus
When you reach certain tresholds with cooking you will get bonus Restoration stats.
Unlike Enhancements, bonuses are applied automatically once you reach required level. (Bonus levels from cosmetics count towards these bonuses)
Cooking
level
Bonus
20
+1
40
+2
60
+3
70
+4
80
+5
90
+7
100
+10
110
+15
120
+25
This bonus isn't additive so on level 120 you will have +25 Restoration.
Crafting Recipes
Prepared Meals
[ Hide section ]
Item
Required
cooking
Ingredients
7 Northern Pikes
0
3 Crystal Coins

7 Snappers
0
3 Crystal Coins

7 Green Perchs
0
3 Crystal Coins

7 Haunches of Ham
0
3 Crystal Coins

7 Haunches of Meat
0
3 Crystal Coins

35 Cucumbers
0
10 Peas

35 Cucumbers
0
3 Crystal Coins

35 Carrots
0
3 Crystal Coins

35 Corncobs
0
3 Crystal Coins

35 Onions
0
3 Crystal Coins

35 Tomatoes
0
3 Crystal Coins

35 Potatoes
0
3 Crystal Coins

Basic Meals
[ Hide section ]
Item
Required
cooking
Ingredients
Effect
Pork and Cork
15
5 Haunches of Meat
25 Corncobs
1 Archlight Token

1% mana every 5 seconds
Steak Platter
15
5 Haunches of Ham
25 Potatoes
1 Archlight Token

1% health every 5 seconds
Bass Fillet
25
8 Slices of Fish
25 Cucumbers
1 Archlight Token

+5 to Vitality
Carp Platter
25
8 Slices of Fish
25 Onions
1 Archlight Token

+5 to Strength
Dragon Carp Platter
25
8 Slices of Fish
25 Tomatoes
1 Archlight Token

+5 to Intelligence
Squid Platter
25
8 Slices of Fish
25 Peas
1 Archlight Token

+5 to Arcane
Shark Soup
30
8 Slices of Fish
25 Carrots
1 Archlight Token

+5 to all Stats
Savoury Meals
[ Hide section ]
Item
Required
cooking
Ingredients
Effect
Savoury Pork and Cork
35
10 Haunches of Meat
50 Corncobs
2 Archlight Tokens

1.5% mana every 5 seconds
Savoury Steak Platter
35
10 Haunches of Ham
50 Potatoes
2 Archlight Tokens

1.5% health every 5 seconds
Savoury Bass Fillet
45
12 Slices of Fish
50 Cucumbers
2 Archlight Tokens

+10 to Vitality
Savoury Carp Platter
45
12 Slices of Fish
50 Onions
2 Archlight Tokens

+10 to Strength
Savoury Dragon Carp Platter
45
12 Slices of Fish
50 Tomatoes
2 Archlight Tokens

+10 to Intelligence
Savoury Squid Platter
45
12 Slices of Fish
50 Peas
2 Archlight Tokens

+10 to Arcane
Savoury Shark Soup
55
12 Slices of Fish
50 Carrots
2 Archlight Tokens

+10 to all Stats
Artisan Meals
[ Hide section ]
Item
Required
cooking
Ingredients
Effect
Artisan Pork and Cork
60
20 Haunches of Meat
100 Corncobs
4 Archlight Tokens

2% mana every 5 seconds
Artisan Steak Platter
60
20 Haunches of Ham
100 Potatoes
4 Archlight Tokens

2% health every 5 seconds
Artisan Bass Fillet
70
16 Slices of Fish
100 Cucumbers
4 Archlight Tokens

+15 to Vitality
Artisan Carp Platter
70
16 Slices of Fish
100 Onions
4 Archlight Tokens

+15 to Strength
Artisan Dragon Carp Platter
70
16 Slices of Fish
100 Tomatoes
4 Archlight Tokens

+15 to Intelligence
Artisan Squid Platter
70
16 Slices of Fish
100 Peas
4 Archlight Tokens

+15 to Arcane
Artisan Shark Soup
75
16 Slices of Fish
100 Carrots
4 Archlight Tokens

+15 to all Stats
Gourmet Meals
[ Hide section ]
Item
Required
cooking
Ingredients
Effect
Gourmet Pork and Cork
80
40 Haunches of Meat
200 Corncobs
6 Archlight Tokens

2.5% mana every 5 seconds
Gourmet Steak Platter
80
40 Haunches of Ham
200 Potatoes
6 Archlight Tokens

2.5% health every 5 seconds
Gourmet Bass Fillet
90
24 Slices of Fish
200 Cucumbers
8 Archlight Tokens

+20 to Vitality
Gourmet Carp Platter
90
24 Slices of Fish
200 Onions
10 Archlight Tokens

+20 to Strength
Gourmet Dragon Carp Platter
90
24 Slices of Fish
200 Tomatoes
10 Archlight Tokens

+20 to Intelligence
Gourmet Squid Platter
90
24 Slices of Fish
200 Peas
10 Archlight Tokens

+20 to Arcane
Gourmet Shark Soup
95
24 Slices of Fish
200 Carrots
10 Archlight Tokens

+20 to all Stats
Transmuting
[ Hide section ]
Name
Required
cooking
Ingredients
Rookie Transmutions
Soul Soil
75
4 Rune Soils
1 Archlight Token
Legendary Stone

75
4 Rune Soils
1 Archlight Token
Awakened Rune Stone

75
6 Rune Soils
1 Archlight Token
Intermediate Transmutions
Soul Soil

85
3 Rune Soils
1 Archlight Token
Legendary Stone

85
3 Rune Soils
1 Archlight Token
Awakened Rune Stone

85
5 Rune Soils
1 Archlight Token
Expert Transmutions
Soul Soil

95
2 Rune Soils
1 Archlight Token
Legendary Stone

95
2 Rune Soils
1 Archlight Token
Awakened Rune Stone

95
4 Rune Soils
1 Archlight Token
Relic Transmutions
Relic Stone
110
5 Awakened Stones
1 Archlight Token

---